About
It's Time for Life
Conventional clocks segment time into seconds, minutes, and hours. The Present reveals a broader perspective, with a single hand accurately aligned to the cycles of the day, the moon, and the year.
Our artisan timepieces reveal the pace of nature's eternal rhythms—immersing you in the cycles of life modern time forgot.
By living with The Present, you're not just observing a clock; you're engaging with an interactive work of art that enriches your experience of time itself.
What's in it for me?
The Present is a perspective-shifting companion to conventional time. With access to the pace of change in nature, these interactive works of art introduce a new sense of spaciousness, calm, and balance in how you experience time.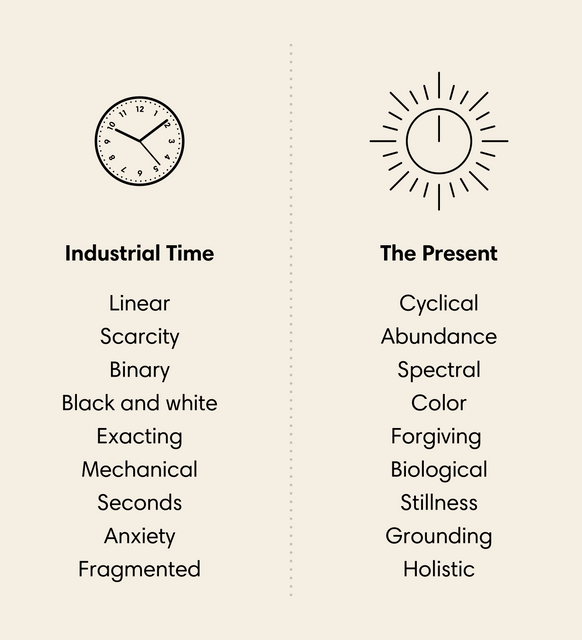 The Present is
The Present is a window to a transformed relationship with time.
Our temporal works of art reorient your experience of time with the rhythms of nature, offering cyclical balance to linear time.


Founder Background
Scott Thrift developed the prototype of The Present in the summer of 2011. Overwhelmed by an inability to be present in his own life, Thrift sought to redefine his relationship with time.
For over a decade, Thrift has pursued his vision of introducing a new temporal experience driven by the support of thousands of individuals, over 8,000 timepieces shipped, and the profound testimonials of owners worldwide.
March 21st - The Vernal Equinox
Story
Company Overview
Based in NYC, with assembly and fulfillment out of Vermont, our small team crafts each timepiece with meticulous care and attention. Since 2012, The Present has evolved through seven editions based on direct feedback from our valued community. 
Benefits
Our trio of time-giving gifts guides our thinking and behavior into greater harmony with the natural world. This shift cultivates presence, patience, and gratitude. The Present is a remarkable gift capable of realigning your experience of time and life with nature's rhythms.
Shift your perception of time.

The Present realigns your perception of time with the cycles of life. This expanded perspective helps you feel grounded, patient, and appreciative of nature's rhythms.
Conventional timepieces reinforce an urgent, fleeting view of each moment. The Present unlocks a calmer experience - time as a cyclical journey to be lived, not just a linear race against the clock.

Enjoy a new, more meaningful perspective on the way you relate to time.
You learn how to relate to time as a living art form to be experienced, not just a resource to be managed. The Present returns you to a richer relationship with time, characterized by tranquility, wisdom, and resonance with the deeper rhythms of the natural world.
Welcome to a more meaningful moment.
Together with conventional time, you'll find a sense of balance and understanding, where time becomes an adventure, not an adversary. Discover the full story behind The Present below, then explore our collection and find which rhythm calls to you.

Welcome to The Present. 



Crafted with Care
The Present is precision engineered and thoughtfully crafted to keep time accurately and reliably for decades. If there is any issue with The Present in the future, we can replace every custom component.
 

Founder Bio
Scott Thrift is a designer currently reshaping time perception with his life's work, The Present. Utilizing his formal education in film studies, Thrift co-founded the Emmy award-winning production company ' m ss ng p eces ' granting Thrift a decade of extensive world travel to six continents—documenting multidisciplinary design processes, the birth of the TED organization, and the effects of globalization on the nature of human experience.
This unique lens on the pulse of an ever-changing world inspired Thrift to develop his seminal work, The Present, a transformational artifact designed to guide our thinking and behavior into greater harmony with nature. A bestseller at the prestigious MoMA Design Store, his timepieces are shifting perceptions in thousands of homes in forty-two countries.

The Present is a work of art by Scott Thrift offering time a more holistic narrative by including the cyclical rate of change as an integral part of how we perceive and approach life on Earth.
-
Since 2012, Thrift has made and shipped over eight thousand timepieces to owners in forty-two countries. He could not have done this without the help of dozens of partners and thousands of individual backers around the world.
The latest edition is the seventh generation, crafted with industrial design help from Che-Wei Wang & Taylor Levy of the award-winning design duo CW&T.
It features a first-of-its-kind clock movement engineered by Josh Levine of josh.com to last decades on the included batteries. The icon and communication design is a collaboration with the artist Jonathan Harris.
-
"We live in the long-term effects of short-term thinking. Giving ourselves and generations to come access to a more robust understanding of time is the gift I'm dedicated to giving."
Scott Thrift  
What's it like to live with The Present?